01 Apr

Elena LaQuatra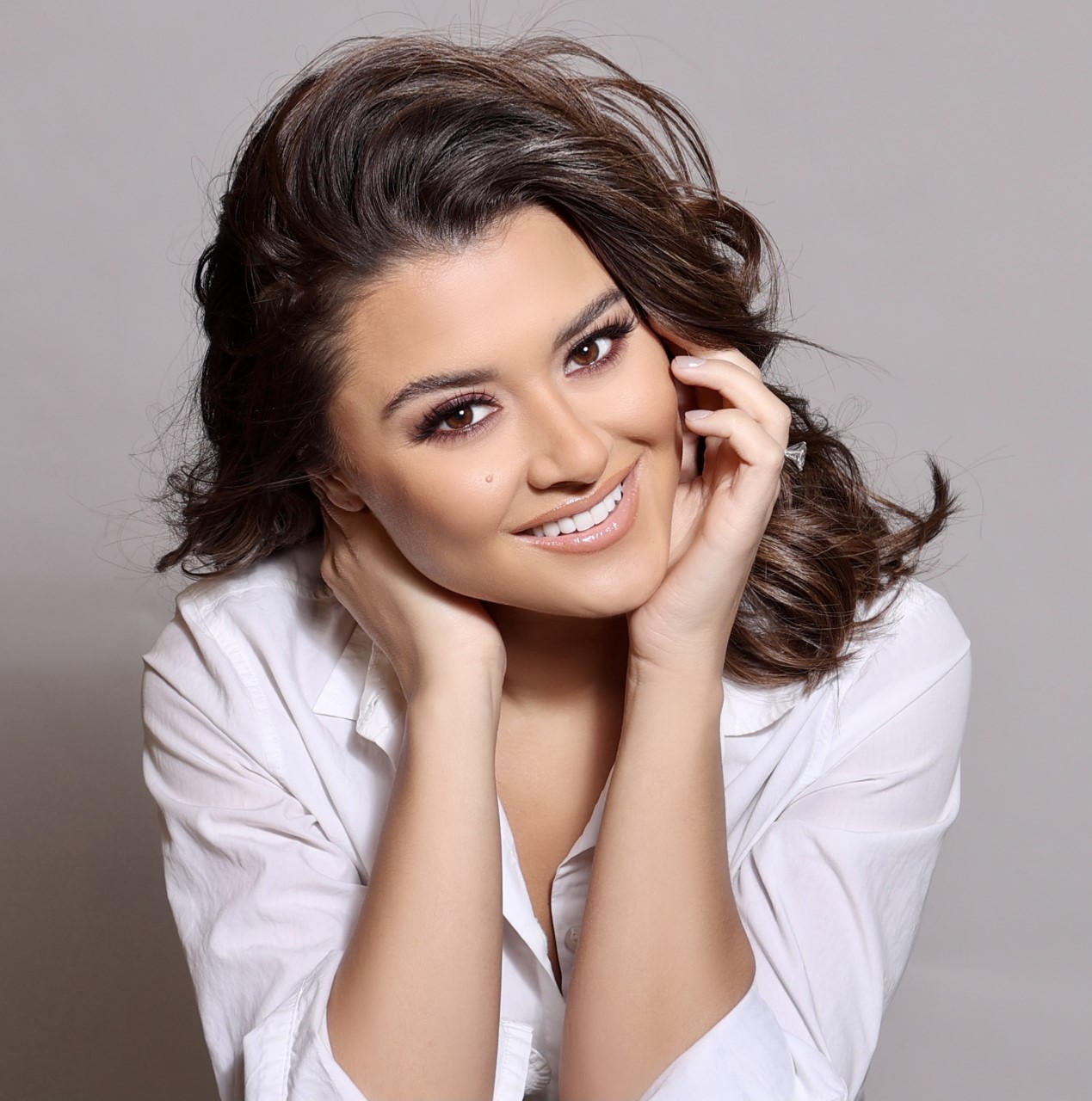 "You don't look deaf."
I can't recall how many times I heard that comment from strangers. I suspect most of us, at one time or another, have been shocked by the public's ignorance of hearing loss.
Elena LaQuatra, a television news anchor, gives us her take on how to reply to that insensitive comment with tact and aplomb. She sees it as an opportunity to educate the public.
Her deafness is a part of who she is, but it does not define how she lives her life. She is unstoppable. Along with help from her colleagues and family and friends, she has risen to the top of her game.
Deafened by meningitis at age four, her parents opted to have her receive a cochlear implant by the time she was five.
Her story reiterates that receiving a cochlear implant can open the world to a recipient. Those who are willing to work hard, are on the road to success.
We may have an invisible disability but there is no reason to become invisible.
Listen to or read her story and be inspired.
Voiceover:
Cochlear Implant Basics is a site for candidates and their families and friends. If you have been told you qualify for a cochlear implant, these podcast interviews tell how receiving a cochlear implant can be a life changing experience. You will meet recipients who face hearing loss, and then hearing aids could no longer provide comprehension of speech or music. They faced growing isolation, inability to socialize or compete in the world of business. The joy of music disappeared. They explain how receiving a cochlear implant changed their lives. Welcome to Cochlear Implant Basics. A reminder, Cochlear Implant Basics is not sponsored by anyone, nor is it offering medical advice. Please consult your own healthcare provider.
Richard:
Today. We're talking to news anchor, Elena LaQuatra. Would you please state your name, the date, and where you're at?
Elena LaQuatra:
Yes. It's actually pronounced Elena LaQuatra, but I get Elena more often than not. So, I accept it.
Richard:
My apologies.
Elena LaQuatra:
So, I'm Elena LaQuatra, I live in Pittsburgh, and today's date is March 24th.
Richard:
Very good. Okay. Elena, tell me a little bit about your hearing loss, your history of hearing loss. How old were you and what did you go through?
Elena LaQuatra:
Absolutely. I lost my hearing when I was four years old to bacterial meningitis. I was born with all of my hearing in both ears. Nobody in my family has any type of hearing loss. My dad does now, just from older age, he's lost his hearing a little bit over the years so he wears hearing aids, but it's not genetic or hereditary at all in my family. So, I was born with hearing, and then at four I got bacterial meningitis. That's how I lost it. At that point, my parents had to make a decision if they wanted me to learn sign language. Hearing aids weren't an option because I had no hearing.
Elena LaQuatra:
So, they chose the cochlear implant. It was newer at the time, because this was 26 years ago, and it was certainly new in the Pittsburgh area. But they went forward with the surgery. They decided to get me the cochlear implants. I'm very grateful for it. I just wear one on my left ear, I'm not bilateral. So, I just have the one on my left ear, but I do very well with it. I went to an oral deaf school afterwards, of course, to regain my listening and spoken language skills. That helped tremendously with speaking, so much so that I decided I wanted to pursue a career in talking on TV for a living. I'm grateful that it all happened the way it did.
Richard:
You went to the DePaul School, right?
Elena LaQuatra:
DePaul School? Yes.
Richard:
How many years were you there?
Elena LaQuatra:
About four years. There was at some point where I was doing a half day at DePaul and a half day at the school I ended up mainstreaming into, but about four years at DePaul.
Richard:
What age were you when they got the cochlear implants?
Elena LaQuatra:
By the time I had the surgery and the implant turned on, went through that whole process, it was right before I turned five.
Richard:
Well, let me ask you a question. Do you have hearing in the other ear at all?
Elena LaQuatra:
No.
Richard:
Is there a reason why you haven't gone bilateral?
Elena LaQuatra:
Yes, actually. So, I leave this part out as to not make the story too long. But I had the surgery, the cochlear implant surgery in my right ear originally, and my cochlea had ossified, so it hardened up and it pushed that electrode array out of the cochlea. So, the surgeons and the doctors and the audiologists were saying, "She's not doing as well as she should be with this cochlear implant. We don't know what happened. We think the surgery, internally, something might have happened." Sure enough, they went in and they realized that the meningitis had ossified my cochlea. So, they gave my parents the option. "Well, we can always try the left ear and see if it works a little better for us." So, that's what they ended up doing. They took the technology out of my right ear, operated on the left, and that proved to be obviously much, much more successful. So, it was a blessing in disguise for my family. But I think at this point there is nothing they could really do with my right ear. So, that's why I'm not bilateral.
Richard:
That's very common with people who have meningitis, the ossification. So, you were lucky. You don't know how many electrodes they were able to get in?
Elena LaQuatra:
It was much more than they expected. I want to say 23 electrodes.
Richard:
Wow. So, that's a full array. I know some people who have had ossification, they could only get maybe eight or 10 electrodes in before they had to stop. That's probably why you're doing so well with the other ear.
Elena LaQuatra:
Yes. It was, like I said, a blessing in disguise. It was meant to be in my left ear.
Richard:
Okay. Then my next question, your career path. You decided to become a journalist at some point, when was that?
Elena LaQuatra:
Yeah. I always wanted to be a doctor, and I think it's because I so admired the doctors who helped me through my life. Then at some point I realized I did not like school. I just didn't want to go [crosstalk 00:05:03] doctor. Science wasn't really my thing. I didn't really like anatomy very much. I had no interest in that type of thing. So, I think in my head, a doctor sounded good, but really when it came down to it, by my senior year, towards the end of my senior year really, I realized that I had a knack for talking, of all things. I met many of Pittsburgh's journalists and reporters and anchors at different events that I was involved in, in the community. Pittsburgh is very like that. So, I had the chance to talk to them at these events.
Elena LaQuatra:
I asked about the career and what it entailed, what they liked about it, disliked about it, and it went from there. My dad's also an English teacher. He's retired now, but he was an English teacher, so I've always had a knack for writing, which you have to be a good writer to be a good journalist. That's part of it at least. It all just fell into place that this really was the perfect career for me, and I love what I do. It's very early mornings, I'm the morning shift, so I have to wake up around 1:30, 2:00 in the morning and look good by about 3:34 in the morning. It's a little tough, but with a lot of coffee I get through it.
Richard:
Well, let me ask you, did you go to journalism school, or did you just fall into the career?
Elena LaQuatra:
I did go to Point Park University, which is in downtown Pittsburgh, right in the heart of Pittsburgh. I studied broadcast journalism, specifically Broadcasting on TV, it was called. The program, they have a phenomenal broadcasting program. There's so many colleges in Pittsburgh and in our area especially, but Point Park is known for its broadcast program. So, I did that. I got my undergraduate, and then I went into the field.
Richard:
Well, broadcasting was born in Pittsburgh. The first radio stations were in Pittsburgh, so you're in the heart of it. Let me ask you a question about your hearing loss and your career. Was school difficult or getting a job difficult because of your hearing loss? Was it a hindrance?
Elena LaQuatra:
I think school was really only a challenge by the time I was in college. I had a little bit of help, some type of… I don't even remember what it was called exactly, but I was involved in some type of program where I had that extra help if needed. But I don't know that all my professors knew I was deaf, and so some of them mumbled or spoke very quietly, or taught with their back towards their classroom. I didn't deal with that in high school, or in grade school, because all my teachers that I had, I think knew I was deaf and they were conscientious of that when they were teaching, me at least. But in college that wasn't necessarily the case. I did struggle to sometimes hear the professor or try to keep up with the notes and watching their lips while taking notes.
Elena LaQuatra:
But I really didn't do a good job taking advantage of all these services that were probably available to me. I probably could have gotten a note taker, I probably could have maybe advocated for myself a little bit better. But I just got through it. As far as my career goes, I definitely have challenges probably daily, because if you think about it, and I guess people, unless they know the news industry, they wouldn't really know all the behind the scenes stuff, but news anchors and reporters wear this little earpiece called an IFB. I'm not able to wear that earpiece. So, my managers and company and I and the producers, have all had to work together to figure out what I can do to basically have the same effect as an IFB. What technology do I have through Cochlear Corporation at my disposal that has the same effect?
Elena LaQuatra:
We figured it out. I used the phone clip, which is made by Cochlear. I call into our newscast, and the producers are able to talk to me through that Bluetooth connection from my implant, to the phone clip, from my phone. So, it's a little bit different when there's a new producer or somebody new working here. I have to explain to them. So, it's a little complicated with me, but this is how we do it. But everybody here has been so, so, so helpful.
Elena LaQuatra:
I know not everybody who is deaf or hard of hearing in the workforce, regardless of the field, has those same type of accommodations, and the same type of help and assistance, and people, not just willing to help them, but eager to help them. I'm very lucky that I have that where I work. Everything from the photographers giving me visual cues, knowing I might miss an audible cue, from my managers making sure I have whatever technology I need and making sure it's expensed at the station. Everyone's been so incredibly inclusive and helpful, and I'm very grateful to that because this job could be much, much harder if I didn't have that.
Richard:
See, this is a topic that I hear all the time, that people are having problems with their career because there's no support there. Sometimes they get to the point of frustration where they're just complaining, complaining, complaining. They don't know what to do about it. So, that's why I'm very interested in your career path and the accommodation. Actually, the note I have right here is to ask you about how you deal with the headset. So, you've just answered that.
Elena LaQuatra:
Yeah. [crosstalk 00:10:09] on the visual cues, and everybody knows that, so when I'm anchoring, almost always they make sure they have somebody behind the camera scheduled to give me physical, visual cues and tell me, "Go here, go to this camera, turn this way. Straighten out," whatever it might be. Same with the photographers. When I would go out on scene as a reporter, which I was originally a reporter, and now I'm an anchor. I'm at a scene of a fire surrounded by 20 blaring loud fire trucks, I can't hear anything through my little IFP adaptive thing we came up with. So, the photographers had to listen into the show and give me visual cues. Everyone here is so great. I really am so lucky because everyone's not, like I said, not just willing to help me, but actually eager to, and constantly asking me, "Is there anything more we can do?" I know I'm very lucky for that.
Richard:
They are obviously love you. That's great.
Elena LaQuatra:
Oh, I love them. I really do love them.
Richard:
No. It's interesting because one of the first interviews I did was with a newspaper reporter who was a sports writer here in Florida, and he talks about the fact, with his hearing loss, how he used to botch names, the spelling of names and scores. He said, years later, he wishes he could go back and apologize to every high school student that he made a mistake on. So, but now he's bilateral, so different kind of reporting.
Elena LaQuatra:
Absolutely.
Richard:
I have another question. It's a weird question because I was totally deaf for 35 years, and I had to depend 100% on lip reading, and I was in business. So many times people would say, "You don't look deaf." How do you handle that? I'm sure people say that to you all the time. How do you handle that?
Elena LaQuatra:
Yes. I do get that all the time. "You don't look deaf, you don't sound deaf. You don't seem like you're deaf." It's weird and you don't really know what to say back to it. You're not going to say, "Oh, thank you." It's always awkward. I usually just like, "Oh, okay. Well, yeah. I am 100% in both ears actually." I try to educate people. I think often, and I'm sure I'm the same way towards other disabilities or developmental, intellectual, whatever, I'm sure I seem ignorant, because I don't live with it and I don't deal with it and I don't know anybody close to me who has issues, those types of issues. I'm sure I seem the same way sometimes in situations, whether I try to or not. So, I try to be very, not really forgiving necessarily, but understanding, that some people probably aren't trying to be offensive or rude or anything like that.
Elena LaQuatra:
They just don't really know. I think it's tough too, because we live in a world, especially now, where everybody's offended by everything. I even had someone on Facebook once, I made a post about Governor Wolf, Tom Wolf here in Pennsylvania, who basically put something in, his mask mandate, in the mandate, the writing of it, that said, "If you are speaking to someone who's deaf or hard of hearing, you're allowed to remove your mask, so they can understand you." So, when that came out, I put a post on Facebook and just said, "Great news, for those of you who are deaf heart of hearing. Now, if someone's trying to talk to you and you can't understand them, you can ask them to remove their mask. It's not a violation of this mask mandate. So, that's good news for all of us."
Elena LaQuatra:
I guess I didn't really mention or bring up in that post that I also was 100% deaf. I don't talk about it nonstop. I guess it got around, a lot of people shared it. So, I was getting comments on it, not a ton, maybe four or five people that were telling me, "You are so offensive. You sound so ignorant to the deaf and hard of hearing culture." I just read the post a million times. I showed people. I'm like, "Is this offensive? I'm confused." I had to tell these people, "I'm 100% deaf too. I'm not really sure what you're offended about, if you think I'm trying to say that this is a bad thing. I'm so confused by it." But I think it just really proved the point, especially in today's day and times, people will find anything to be offended about. When I would tell these people, "I'm literally 100% deaf also, so believe me. If I'm offending you, I'm also offending myself." They were all apologetic. So, I think it's a lose/lose world we live in right now, unfortunately.
Richard:
I really appreciate your insight on that, because I deal with it all the time. I have to tell people, because basically I'm not a big advocate for sign language, but I've been on both sides of the fence. I had hearing for a little while, I wore hearing aids for 30 years. I was deaf for 35 years. So, I tell people, "Look. I'm speaking from experience. I'm on both sides of the wire, and I can say whatever the heck I want."
Elena LaQuatra:
Exactly. I always say, to each his own. I'm very like, whatever makes you happy, whatever fits your lifestyle, whatever fits your family life, that's wonderful. Pursue that. If it's sign language, do sign language. If it's something… With me where I got the Cochlear Implant, I'm so successful with it. I would love to learn sign language just to know it because I think it's beautiful, but I just never needed it.
Richard:
Exactly. Okay. I'd like your input. If somebody was applying for a job and career, should they reveal that they have a hearing loss when they're making the application?
Elena LaQuatra:
Well, maybe it depends on the job. I mean, for me, obviously, my bosses here knew me. I sound like very, very arrogant saying this, but I used to do pageants, so I was known in Pittsburgh, and my bosses before even applying for this job, I worked at the station part-time. Before that, I was shadowing all of the anchors here. So, people knew me and they knew my back story, and I've been very vocal about it my entire life, since it happened, when I was a kid. I've been a spokesperson, an advocate, so it wasn't something that no one would've known about me. Google search my name and that's probably the first 25 articles. So, it wasn't really something I had to worry about. I think also, for me, it's a huge part of my story and who I am, and I'm very comfortable talking about it. But I think for somebody else, it should just be dependent on the job and they're comfortability.
Elena LaQuatra:
I mean, if it's a job where they're going to be on the phone a lot, or doing virtual meetings a lot, and maybe today's day and times, just because of COVID, they might want to disclose it, and say, "I know we're still working from home and doing a lot of virtual stuff. I do have hearing loss and it might be a little bit of a struggle for me to join in on big Zoom calls. Are there any accommodations, or exceptions or help for me because I have hearing loss?" But for other jobs it might not make any bit of a difference if a person's deaf or not. So, I think it just has to really depend on each individual circumstance.
Richard:
I appreciate that. You're an advocate for people who are disadvantaged. Can you tell me a little bit how you got into that and what you do?
Elena LaQuatra:
I think I got into it with or without my consent, when I was little, because I was DePaul School for Hearing and Speech, and I just became their little mascot, I say. They used to take me to visit doctors at hospitals and surgeons. They used to take me to talk with parents of other deaf kids. I just joined in on the efforts to advocate about cochlear Implants and oral deaf education. Then just the way my life unfolded from when I was a child to now, I was always in the public eye, with pageantry, I did theater. I was almost a natural advocate and spokesperson for it, so it was nothing I really decided to seek out later on in my life. So, I think for me, it was just a good fit. I love doing it.
Elena LaQuatra:
Then just the career I have now too, even fits more perfectly into it all, because I do have this platform and a title of a news anchor where I'm a little bit of a public figure in the city of Pittsburgh, which gives me even more of a platform to speak about oral deaf education, Cochlear Implants, accommodations for those who are deaf or hard of hearing. Then encouraging people who do have disabilities to be an advocate for themselves, and encouraging them to follow through with their dreams. I'm not the most impressive deaf person by any means.
Elena LaQuatra:
I mean, there's incredible people out there. I know you interview a lot of them and I think everyone you interview and everyone out there who has a story living with deafness or any disability really, there's so many out there that have stories that prove you can accomplish and achieve anything, if you really just put the work in and set your mind to it. Maybe you might need a little accommodations here and there, a little bit of help, but it's really about being an advocate and fighting for what you want and what's going to make you happy in your life.
Richard:
That was going to be my last question, because I always ask the people I'm interviewing to sum up, if they have something to say to the public, because the mission that I have is to get people out of the isolation of deafness. I always try to ask people for a final statement, but I think you summed it up beautifully.
Elena LaQuatra:
Oh, thank you. I mean, it's so true. I try to encourage that, especially in kids I talk to at a young age. Please do not let your disability and your deafness lead you to hide behind the corner, and not live your life to the fullest. It's something that's so minor, with technology nowadays, with hearing aids and Cochlear Implants and the options for people out there. Even if your option is American Sign Language, there's no need to be embarrassed or hide about that. There's so many resources out there as well for somebody to look into and people to confide in and talk to. There's no need to not live your life in a way that's going to make you happiest, just because you have hearing loss or you're deaf.
Richard:
You know something? You are absolutely fantastic. This interview will help people move forward, and I really appreciate your time.
Elena LaQuatra:
Richard, thank you so much. I'm so glad you reached out to me, and I'm glad we were able to make this work.